What do you think about when you imagine famous models?
To this day, many envision waif-thin women in the vein of Kate Moss. However, that level of skinniness is simply impossible and even unhealthy for most women to achieve. And, needless to say, such models bear little resemblance to the average body type for their countries.
This is part of why plus-sized models are growing in popularity and prominence. While the term "plus-sized" has been controversial in the past, it simply refers to women who weigh more than the average model. For example, the average size for women in America is between size 16-18, but "plus-sized" American models may be as little as a size 8 (the term "curve model" is also used).
Fortunately, plus-sized models are leading the way in normalizing body shapes of all sizes and loving yourself for who you are. But who are the most famous plus-sized women in the world? Keep reading to learn the answer!
Kate Wasley
Relative to other models on this list, Kate Wasley is pretty new to the game. But she made history as the first curve model for the activewear brand Lorna Jane and dazzled the world by appearing in Sports Illustrated's 2018 Swimsuit issue!
Jennifer Atilémile
If you didn't already know, plus-sized women from all around the world are rising up and seizing the day. For example, Jennifer Atilémile became the first Australian curve model to sign a deal with Victoria's Secret, helping the famous lingerie brand reach more women than ever before.
Georgia Pratt
The meme "get you a woman who can do both" is the perfect description for Georgia Pratt. She spent years designing snazzy clothing before becoming a model for Lane Bryant. And as a model, she participated in their #PlusIsEqual and #ThisBody campaigns to encourage women to love and accept their bodies.
Precious Lee
We'd say that Precious Lee is having a moment, but her "moment" has been going for half a decade! She made a splash in 2016 as the first Black plus-sized model to appear in Sports Illustrated's Swimsuit edition. Since then, she has modeled for the likes of Kim Kardashian and Marc Jacobs, and she made breathtaking appearances earlier this year at the Versace and Savage x Fenty shows.
Barbie Ferreira
Barbie Ferreira could teach a master class in achieving your dreams. After all, she wanted to become a model, and she made it happen by sending photos of herself to American Apparel. Now that she is a successful model, she uses her platform to preach both body diversity and body acceptance.
Bree McCann
Bree McCann is something of a pioneer in the world of plus-sized models. This Australian became a plus-sized model way back in 2010, and she has since modeled around the world and helped serve as the face of the ASOS Curve.
Robyn Lawley
You may not immediately recognize Robyn Lawley's name, but she is the most famous plus-sized model in Australia thanks to major campaigns for brands like Ralph Lauren. And she doesn't shy away from body activism, like when she wrote an essay in 2013 about the mania for a "thigh gap" in women as being genuinely unhealthy.
Iskra Lawrence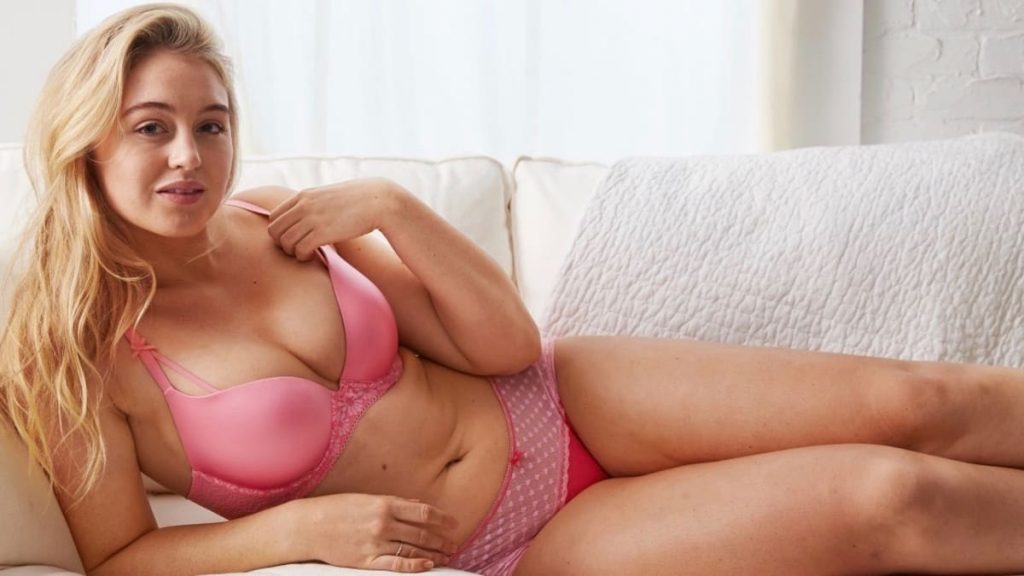 Among plus-sized models, Iskra Lawrence has something of an underdog story. She first became a model by making it into Elle's "Search For a Supermodel" competition, but they soon dropped her due to her unconventional body type. Now, though, she is a successful plus-sized model with a YouTube channel (everyBODYwithIskra) where she preaches about loving yourself and not comparing yourself to edited images on social media.
Hunter McGrady
It's tough not to cheer for Hunter McGrady. She began modeling as a super-thin 15-year-old, but she soon realized the beauty standards expected of her were unfair and unhealthy. After taking a break from modeling, she returned to the industry as a plus-sized model, and she has since appeared as "the curviest model ever" in 2020's Sports Illustrated swimsuit issue.
Denise Bidot
At times, it feels like plus-sized model Denise Bidot is everywhere at once. She has walked the runway for Serena Williams' fashion line and also proudly showed off her stretchmarks in untouched Sports Illustrated photos. She has even appeared in the HBO Latino series Habla: Women and in documentary series like Straight/Curve and Curvy Girls.
Ashley Graham
As we noted before, "plus-sized" can refer to a very wide range of models. In the case of Ashley Graham, she made history by being the first size 16 model to appear on the cover of Sports Illustrated. She rode that success to a number of runway appearances and now has launched multiple fashion lines, written a book, created a podcast. Oh, and did we mention she was a judge on America's Next Top Model?
Jill Kortleve
Dutch model Jill Kortleve hasn't been in the modeling game for long, but she has an insane record of walking on runways in Paris, New York, and everywhere in between. When she walked for Chanel, she actually made history by being only their second plus-sized model to ever work the runway.
Tara Lynn
At this point, model and mother Tara Lynn has done a bit of everything. She is most famous for lingerie and swimsuit shoots, and you may have seen her gracing the international editions of magazines such as Glamour and Vanity Fair.
Paloma Elsesser
In many ways, Paloma Elsesser is really living the dream: after all, she was recruited into the world of modeling thanks to her sexy photos on social media. And in addition to modeling for magazines like Vogue and Elle, she even appeared in the hit dramatic movie Uncut Gems.
Tess Holliday
Tess Holliday is an icon within the body positivity movement. This size 22 model has graced the cover of Cosmopolitan in the UK and written a book titled The Not So Subtle Art Of Being A Fat Girl: Loving the Skin You're In. And she practices what she preaches: when online trolls left negative comments about her weight on social media, she created a viral hashtag, #EffYourBeautyStandards, to clap back at them in the most epic way.